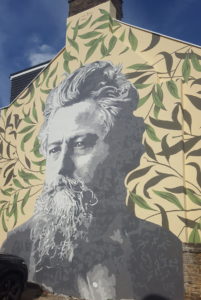 Project with a Difference
This sum­mer we had the chance to be involved in a really excit­ing – and a lit­tle unusual – project. We were asked to use our exper­tise as exter­nal wall insu­la­tion experts to help trans­form a 1900 end of ter­race house into a can­vas for a giant mural. We don't get these sorts of requests every day!
The brief
The prop­erty is right next door to the William Mor­ris Gallery, a north east Lon­don insti­tu­tion that was for­merly the home of the cel­e­brated Lon­don designer, writer and activist of the same name. The idea was to cre­ate a sur­face on which a mural of William Mor­ris could be painted in advance of a local fes­ti­val. Be Con­struc­tive had just over a week to have the wall ready for the artist to come in and paint the mural of Mor­ris!
Not an easy wall to work with
As you can see from the 'before' photo, the wall was in a pretty poor con­di­tion, with cracks and blown ren­der all over the place. The wall itself was also not flat – there was a deep dou­ble chim­ney breast in the way – so cre­at­ing a flat sur­face for the mural was not a straight­for­ward insu­la­tion job.
Fur­ther­more, the wall is right next to a coun­cil car park, and var­i­ous per­mis­sions were required in order to set up scaf­fold­ing and carry out works there.
An innovative solution to the problem
The artist needed an absolutely flat sur­face from one end of the chim­ney breast to the other. Unfor­tu­nately, the breast splits half way down the wall and there is a big void with a depth of 350mm between them. This meant we had to order a one off, bespoke thick­ness of EPS insu­la­tion from our man­u­fac­turer – EWI Pro, that would fill the void and allow us to ren­der a com­pletely flat sur­face. The EPS was cut and deliv­ered to site, but there lay another prob­lem – there are no fix­ings long enough for this super-wide thick­ness of EPS! We had to use our longest fix­ings and core 100mm into the EPS, install the fix­ing, then plug the hole left behind.
The whole wall was then base-coated with EWI pre­mium base coat to cre­ate a per­fectly smooth sur­face to ren­der on, and them a super thin 0.5mm top coat was applied. The 0.5mm is not often used because it is extremely dif­fi­cult to apply, so we had to use our very best ren­der­ing team to get the work car­ried out.
The finished product
As you can see, the final result is quite stun­ning. The paint work was done over just 2 days using EWI Pro sil­i­cone paint – the same paint we would nor­mally use to paint sil­i­cone ren­der on a typ­i­cal home. That means we were able to offer a full 25 year guar­an­tee, just like any other project.
Hav­ing a mural on your house is not for every­one, but if it is your cup of tea, please feel free to get in touch – we would be happy to help!