External Solid Wall Insulation Grants 
Access TheGreenAge Retrofit Works External Wall Insulation Grant
We are an exter­nal wall insu­la­tion com­pany based in Lon­don, deliv­er­ing exter­nal wall insu­la­tion refrofit projects to North Lon­don and the sur­round­ing areas.
We are a part­ner of The­GreenAge (UK's energy sav­ing online com­mu­nity) and Retro­fit Works (North Lon­don deliv­ery part­ner), and can help you access up to £6,000 approved grant fund­ing if you live in the fol­low­ing bor­oughs – Haringey, Isling­ton, Cam­den, Waltham For­est, Hack­ney or Enfield, and you live in a solid wall prop­erty.
How do I apply for the £6,000 External Solid Wall Insulation Grant
The process to apply the grant is very sim­ple if you meet the fol­low­ing two cri­te­ria:
Have a solid wall prop­erty
Reside in one of the fol­low­ing bor­oughs: Haringey, Isling­ton, Cam­den, Waltham For­est, Hack­ney or Enfield
Make the enquiry well before the 31st March 2016, so that you are not dis­ap­pointed.
Simply fill out form below and we will get in touch with you
Tell your neighbours about this generous scheme!
We have been involved with this scheme since its incep­tion (end of 2014) and have helped many cus­tomers have exter­nal wall insu­la­tion installed in the area. Just look at some of our recent trans­for­ma­tional projects below to see the fan­tas­tic pos­si­bil­i­ties avail­able with exter­nal wall insu­la­tion sys­tems.
Mineral Wool External Wall Insulation Project – Mildmay Park, Islington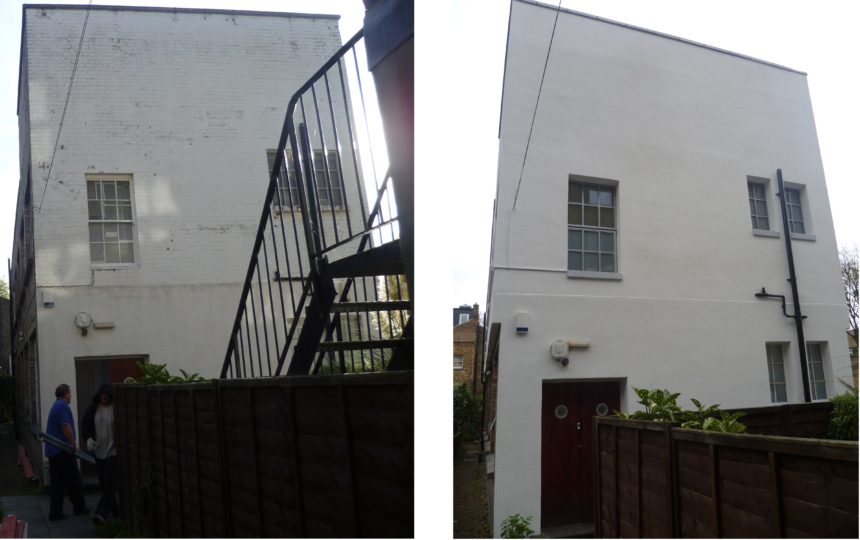 EPS External Wall Insulation Project – Hounslow

EPS External Wall Insulation Project – Walthamstow

It is amaz­ing how many peo­ple have already jumped up and taken advan­tage of it, after they have seen the trans­for­ma­tion to their neighbour's prop­erty – how­ever we want to help spread the word fur­ther and would love it if you could too!
Typical Questions and Answers Below about External Wall Insulation
How do I know if I have a solid brick property?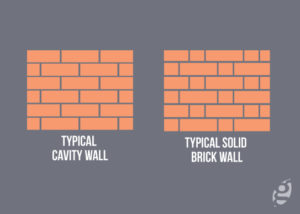 Check whether you have a solid brick home! You can do this in two ways – the first is to look at any exposed brick­work. If it matches the pat­tern on the pic­ture (the right hand one of the two!) then you are good to go.
The other way of telling if your home has solid walls is by find­ing out when it was built. If the home was built pre-1930 then it is likely that you have solid walls too!
How will the grant contribute to the cost of the works?
Pro­vided you have solid walls, you are eli­gi­ble for a grant, up to a max­i­mum of £6,000, to help cover the cost of insu­lat­ing your house. The grant can cover 75% of the works, so if the total cost of the job was £8,000+ then you would get the max­i­mum avail­able – if the job costs £4,000 then you would get £3,000 as a grant.
This is an extremely gen­er­ous pack­age and avail­able to a select num­ber of post­codes around the coun­try. There­fore if you are look­ing to install exter­nal wall insu­la­tion to your prop­erty, now is the time to act.
If I decide to go ahead with the process what do I do next?
If you want to go ahead the first thing to do is get your­self a sur­vey – under the grant scheme we can carry these out at no cost to you!
If you are happy with the price, then we can get the appli­ca­tion process started.
This grant is going to run out soon (end of March 2016) – so if you think you might be eli­gi­ble then get in touch now to secure your grant.
The­GreenAge Retro­fit Works scheme is a coun­cil led scheme made pos­si­ble through the Green Deal Com­mu­nity fund and all works car­ried out under it are backed by a 25-year Gov­ern­ment backed guar­an­tee.
As we have men­tioned, we have had word the scheme is end­ing soon, so if you want to secure your free GreenAge grant call us now to get the ball rolling – 0208 819 3882.
I would like to re-render the property, what could I do next?
Re-ren­der­ing your prop­erty with a long last­ing thin-coat ren­der­ing sys­tem is not a cheap under­tak­ing – espe­cially if you want it to be installed with the high­est pos­si­ble stan­dards! Actu­ally if your prop­erty is being exter­nally insu­lated you will have to ren­der to fin­ish any­way, which pro­tects the under­ly­ing insu­la­tion and achieves the same out­come.
This means that under this scheme, you can re-ren­der your home and insu­late it at the same time AND get a £6,000 grant towards the costs. We heard back from a cus­tomer whose solid walls we insu­lated in the sum­mer of last year and his energy bills have halved as a result (4 bed semi-detached house), so the annual energy sav­ings will quickly cover the cost of any finan­cial out­lay any­way!
So take our advice – move quickly. Call us today on 0208 819 3882 if you live in Haringey, Isling­ton, Cam­den, Waltham For­est, Hack­ney or Enfield and we can help you process the grant appli­ca­tion straight-away.