Be Constructive is one of the UK's leading installers of thin coat render.
Re-rendering Services
Could your home do with a facelift?
Be Constructive is one of the UK's leading installers of thin coat render.
Rendering the external surface of walls is a great way to improve the appearance of your property. The render also protects the underlying brick and provides a water resistant layer, helping reduce any water ingress.
Our thin coat render system is available as either a mineral/acrylic or silicone silicate render so you can be sure we will have the right system for you. We even offer acrylic brick slips if you are looking to recreate the look of real bricks on your home.
If you are looking for a long lasting vibrant colour, you might want to consider the acrylic render system. If you are looking for a tough wearing system you may choose our mineral render system and if you want a flexible, self-cleaning system, we would point you in the direction of our silicone silicate render.
How is our thin coat render attached to the wall?
The first step involves preparing the wall before we apply any render. We do this by first cleaning the wall and then applying a primer to it which helps increase the binding potential of the wall.
Next we apply 4-6mm of concrete adhesive to the wall – this becomes the base layer on top of which we apply the chosen render. A reinforcement mesh is then sunk into the concrete adhesive, which ties this all together and makes it incredibly strong.
A 1.5mm layer of render is then applied to the wall to provide the finish. If mineral render is used, a final coat of silicone silicate is required.
Bored of the dated pebbledash look?
In our opinion the days of pebbledash are numbered! More and more of our customers are growing bored of the look of the their homes and are turning to thin coat render to greatly improve the look of their homes!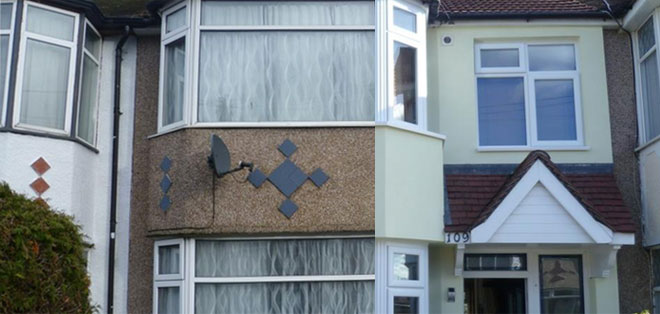 How long will our thin coat render system last?
Our thin coat render comes with a 25-year warranty, but provided it is maintained correctly it will last far longer than that!