Did you see us in the Mail on Sunday?
You may have seen us in the Mail on Sunday's sup­ple­ment Homes and Gar­dens this week­end. The piece tells the story of some work we recently car­ried out for a cus­tomer.
Dorothy Thorne's daugh­ter Ann approached us a few months ago to ask us to quote for insu­lat­ing and ren­der­ing her mum's home near High Wycombe. The walls were con­crete, which made the house cold and not ideal for Dorothy. Plus the peb­bledash ren­der was tired and not exactly the most attrac­tive fin­ish. The plan was to add 100mm expanded poly­styrene (EPS) insu­la­tion to the prop­erty to bring it up to the same effi­ciency stan­dard as a new build home (u-value 0.28 or bet­ter), whilst adding a mod­ern smooth breath­able sil­i­cone ren­der fin­ish.
'They were so help­ful, hard­work­ing and friendly.'
The first step of instal­la­tion was scaf­fold­ing, with pro­tec­tive sheet­ing cov­er­ing the ground and win­dows. The walls were then primed to ensure the adhe­sive has the best sur­face to grip to – note that the peb­bledash did not need to be removed at all. Next, the insu­la­tion board was applied with adhe­sive, with fix­ings going through into the brick­work to help ensure the insu­la­tion boards were secure. A rein­force­ment base coat was then applied to the insu­la­tion boards which con­sists of adhe­sive and a fibre­glass mesh layer – this ensures the ren­der doesn't crack. To fin­ish the exter­nal wall insu­la­tion sys­tem we used a breath­able thin coat sil­i­cone ren­der, which pro­vides a fresh, mod­ern look­ing fin­ish. This is far more hard­wear­ing than tra­di­tional sand and cement ren­der sys­tems.
The advan­tages of insu­lat­ing, rather than re-ren­der­ing, are clear:
there is no need to strip off the exist­ing ren­der first
it could save around £400/year on energy bills for an aver­age semi-detached home
it helps to reduce damp on cold exter­nal walls
it gives a great look­ing fin­ish to the house
The end result was a mod­ern-look­ing prop­erty, insu­lated above and beyond cur­rent build­ing reg­u­la­tions. As you can see, it was quite a trans­for­ma­tion!
The job was car­ried out with­out fuss in around two weeks. Dorothy was able to carry on liv­ing in the prop­erty through­out, with min­i­mal dis­rup­tion. She was pleased with the job and will be much warmer this win­ter!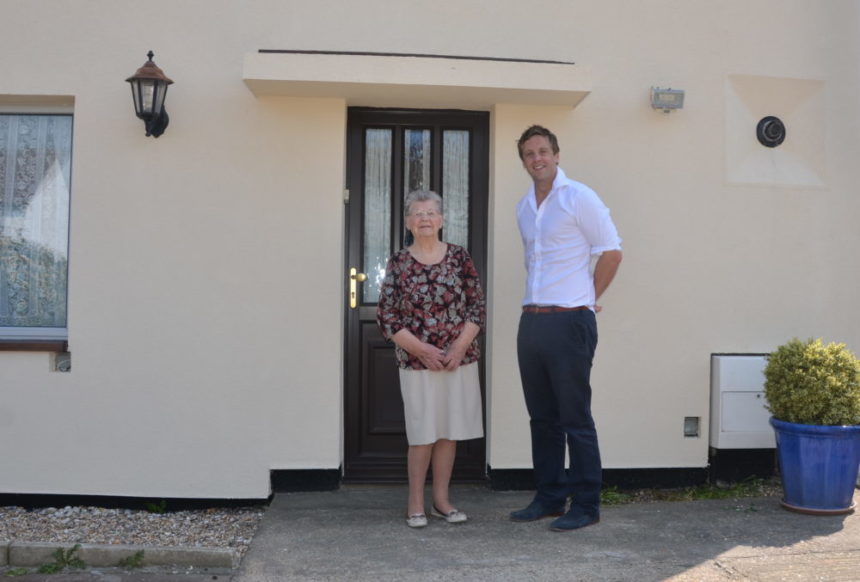 We use only BBA-approved prod­ucts to carry out insu­la­tion work, work­ing with EWI Pro Exter­nal Wall Insu­la­tion Sys­tems, a mar­ket-leader in pro­vid­ing exter­nal wall insu­la­tion and ren­der­ing solu­tions. In fact, EWI Pro Insu­la­tion were very much involved in mon­i­tor­ing this project, which gave us increased con­fi­dence and tech­ni­cal assur­ance.
Gary Spiers, Busi­ness Devel­op­ment Man­ager, EWI Pro Insu­la­tion Sys­tems said: "Be Con­struc­tive is one of our approved installers in Lon­don and the sur­round­ing areas. We were very pleased with their progress dur­ing our tech­ni­cal mon­i­tor­ing pro­ce­dures car­ries out on site, and even hap­pier the cus­tomer liked the way the final prod­uct was installed.
One of the things that dif­fer­en­ti­ates us from other sys­tem man­u­fac­tur­ers is our unequiv­o­cal sup­port for the installer and our pas­sion for encour­ag­ing only the high­est qual­ity fin­ish."
Finally …did you know we also install imitation brick slips?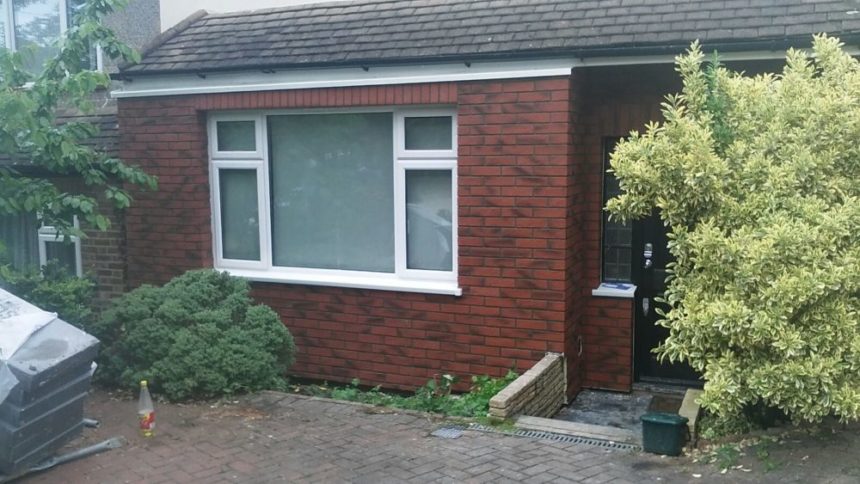 For non-ren­der fin­ishes we can also repro­duce the a brick look, as you can see above – using dif­fer­ent types of brick slips to meet your unique needs. For exam­ple, if you have grey-yel­low 'Lon­don stock' bricks and you are wor­ried about ren­der­ing over this; don't worry as we can repro­duce any type of brick to keep in char­ac­ter of your exist­ing prop­erty.
How to get in touch with us
If you would like your home insu­lated, just give us a call for a no-oblig­a­tion quote. We are offer­ing 10% off all our solid wall insu­la­tion instal­la­tions reg­is­tered before the end of July.
Call us on 0208 8193882 (Mon – Fri); or
Send us an email to: info@beconstructiveltd.com; or
Fill out your con­tact details in the form below and we will get back to you.