Is Insulating External Walls With Wool Worth It?
Insu­lat­ing solid walls or any other type of wall that has poor insu­la­tion is absolutely the opti­mal thing to do – not only from an energy effi­ciency per­spec­tive but if under­taken exter­nally will also give your tired façade a renewed look.
There is a lot to be said about the mate­ri­als that are used for this insu­lat­ing process and many sys­tem design­ers out there will argue their point-of-view.  If you are insu­lat­ing the walls exter­nally you can use a num­ber of mate­ri­als includ­ing: expanded poly­styrene, min­eral or rock wool, cork and phe­no­lic resin. If the process is inter­nal you could use min­eral or rock wool, as well as sheep wool and phe­no­lic resin.
Although wool insu­la­tion for walls is not the most pop­u­lar prod­uct as yet, it cer­tainly has advan­tages over other mate­ri­als.
Mineral wool insulation is breathable
The min­eral wool sys­tem is what the indus­try refers to as "open vapour sys­tem", which means that effec­tively mois­ture par­ti­cles can find a way from one side to the other through the mate­r­ial and the masonry walls. Do not con­fuse this with being prone to damp issues – an open vapour sys­tem will absorb mois­ture in the wool fibres and dis­si­pate this through the breath­able top coat of the ren­der that was installed.
If your brick ties are very tired and the brick itself is prone to mois­ture, then this could be the solu­tion for you. Effec­tively the dam­aged brick may never be fully dry when apply­ing the wool insu­la­tion sys­tem. If you then install the open vapour sys­tem like wool it will allow the mois­ture the abil­ity to dis­si­pate through the mate­r­ial and out to dry, mak­ing this insu­la­tion mate­r­ial really good for these types of sce­nar­ios.
A closed vapour sys­tem on the other hand stops like EPS the mois­ture escap­ing on the out­side which is why in some cases when installed on prop­er­ties it shows signs of damp on the inside.
Mineral wool has high resistance to fire
One of the big advan­tages of min­eral wool ver­sus EPS is the abil­ity to resist a fire break­out for hours, allow­ing the agent time to mit­i­gate the issue. Dur­ing lab­o­ra­tory tests, a fire break­out on EPS could lit­er­ally be in min­utes whereas the wool just doesn't give in eas­ily. The EPS doesn't nec­es­sar­ily catch fire but it emits large plumes of black smoke quickly enwrap­ping a build­ing or room.
Other benefits of fire retardant properties
The min­eral wool insu­la­tion is per­fect for insu­lat­ing pub­lic build­ings such as schools, hos­pi­tals and local author­ity build­ings because of the resis­tance to fire-break­outs. Insur­ance com­pa­nies in par­tic­u­lar insist that many of these prop­er­ties are only insu­lated in wool to reduce the risk of claims from fire dam­age.
Local coun­cil build­ings and hos­pi­tals are over 3 storeys in most cases and the wool insu­la­tion is really the only suit­able mate­r­ial for the insu­la­tion process.
High resistance to microbiological attacks
Build­ings react to mois­ture, dust and other microbes found in the air. This is why you can see evi­dence of wear and tear on brick or algae growth where there is mois­ture build up. The wool mate­r­ial is fan­tas­tic at mit­i­gat­ing this and allow­ing the masonry behind it to be pro­tected and last a long time with­out any fur­ther wear and tear.
Acoustic advantages
If you live on busy road or just have a noisy neigh­bour­hood then apply­ing the wool insu­la­tion will go a long way in muf­fling that sound. Unfor­tu­nately the sound doesn't just travel through glass win­dows or doors it actu­ally also come through unin­su­lated walls.
The crimp fibres on the wool absorb sound and make this the per­fect mate­r­ial to use if you are also after bet­ter acoustics as well as energy sav­ing prop­er­ties.
Using wool for internal insulation
Min­eral or rock wool can be installed on the inside of the prop­erty. The insu­la­tion process is pretty much the same if you were using phe­no­lic boards – using wood bat­tens to attach this to the inter­nal walls.
If you are look­ing for eco­log­i­cal prop­er­ties, accord­ing to Sheep­wool4Homes, then pure sheep wool insu­la­tion can also be used to insu­late the inter­nal walls. Sheep wool has added ben­e­fits of fil­ter­ing air and absorb­ing harm­ful tox­ins in the exist­ing build­ing fab­ric, how­ever is 3 times the price of nor­mal fibre glass or rock wool.
The main issue you will have here is the space con­sid­er­a­tions. To achieve a u-value of 0.3 or bet­ter be pre­pared to sac­ri­fice away at least 14cm of inter­nal space, which would be quite a lot if you are insu­lat­ing more than one wall.
Also with inter­nal insu­la­tion there is more upheaval to the prop­erty as radi­a­tors and pip­ing has to be more and adjusted as well as the walls being fully redec­o­rated.
Cost is reasonable but not the cheapest
The cost of the insu­la­tion mate­r­ial is about dou­ble the price of EPS mak­ing more expen­sive. How­ever all the other com­po­nents in the insu­lat­ing process like the adhe­sive, basecoat, the starter track, fix­ings and ren­der are the same.
More cost is added onto the labour com­po­nent of the insu­la­tion, just because it is a lot more dif­fi­cult to han­dle than EPS or the phe­no­lic mate­r­ial.
Cost com­par­i­son for exter­nal wall insu­la­tion per m2:
EPS

– £95/m2
Phe­no­lic – £115/m2
Min­eral Wool – £130m2
Cork – £170m2
Should I use wool insulation for my walls?
Exter­nally, we would rec­om­mend the wool and the expanded poly­styrene (EPS) prod­ucts or the sheep wool inter­nally if you can afford it and if space is not an issue.
Now EPS is the cheap­est and most com­mon sys­tem design, fol­lowed by the mineral/ rock wool.  The min­eral wool is the prod­uct to use in pub­lic build­ings, high rise flats, schools and hos­pi­tals because of the fire retar­dant prop­er­ties and it is insisted upon by insur­ance com­pa­nies.
The dis­ad­van­tages are that it is not great if space is an impor­tant con­sid­er­a­tion or if you are look­ing for a high impact resis­tant sys­tem.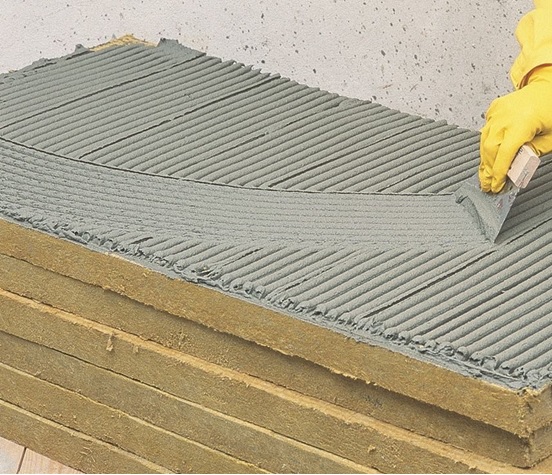 Wool insu­la­tion is a fan­tas­tic mate­r­ial to use and it has many advan­tages. As long as you install a prod­uct that comes with a long term war­ranty there is no rea­son that it shouldn't pro­vide you with the ben­e­fits for years and years.