External wall insulation Spring work starts now!
There's a reason it's called spring cleaning… Spring is the perfect time to start a new project and get your home up to scratch!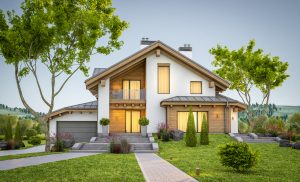 If you wish to spice up the exterior of your home this spring, we recommend using silicone render manufactured by EWI Pro. This product comes in a wide array of colours and due to the nature of the silicone, it is self-cleaning, water resistant, and resistant to cracking. This makes it the perfect material to spice up your home and keep your home in great condition for as long as possible even through tough winter months!
The cold weather has (hopefully) passed, leaving many homeowners shockingly aware of how effective their home is at maintaining its heat. With this in mind, and having recovered from the Christmas indulgences, now is the perfect time to have a think about ways that you can improve your home.
Spring is the perfect time for external wall insulation
The ideal time for external wall insulation and rendering is in a mild climate such as spring. So, for any homeowners out there who are considering external wall insulation or rendering, then now is the time! Giving your house a spring clean by re-rendering will ensure that it will look clean and fresh ready for the upcoming summer months when the bright light exacerbates old, cracked or dirty render.
Longer daylight hours and better weather also provide great working conditions for External Wall Insulation installers, allowing them to increase their productivity and with less chance of delays due to weather conditions.
By installing EWI in the spring time, you will not only ensure that your home stays warmer next winter, but it will also prevent heat from entering in the summer months – therefore keeping your home nice and cool!
Spring is always a busy time for External Wall Insulation installers, so be sure to get your project booked in ASAP. If you are in need of an installer, please inquire using our Find An Installer form.