External Wall Insulation in Birmingham
Why should I get External Wall Insulation?
As much as 33% of all the heat produced in your home is lost through un-insulated walls. On average you could be wasting £475 a year on your fuel costs. Not only that, but you could be pumping out an unnecessary 1.9 tonnes of carbon every year. That's the equivalent of driving around 7000 miles in an average car
Figures from the Energy Saving Trust show that installing external wall insulation could save you £475 on your energy bills and cut carbon by 1900 kg.
There are many more reasons to get EWI such as:
EWI can be applied with minimal disruption to the household and its occupants
no internal access is required
EWI does not reduce the floor area (living space) of the property
Installing EWI improves the appearance of the property – potentially increasing the property's value
Installing EWI improves weatherproofing and sound resistance
Installing EWI can make the building more airtight, reducing drafts and heat loss
Installing EWI increases the life of the existing property by protecting the existing substrate from the weather
EWI reduces condensation on internal walls and can help prevent damp (but will not solve rising or penetration damp)
Why should I get External Wall Insulation in Birmingham?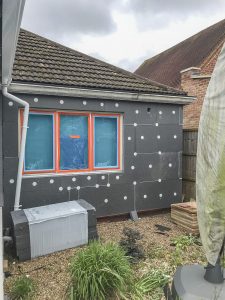 Many of the houses within the Midlands are made up of 'solid walls' as they were built before the 1930s. By 'solid', it means that there is no cavity inside them. A solid wall's brick pattern is recognizable by having lots of end bricks, which look like half-length bricks, in the middle of walls (i.e. not near ends of walls and not near windows and doors). These are in fact mainly cross bricks, which run from the front to
the back of a wall. Therefore, the depth of a wall – ignoring any plaster on the interior surface – is a brick's length, about nine inches.
If you have solid external walls, external insulation is the best option for insulating your house as it completely covers the façade of a home. The problem with internal insulation is that it is generally only installed within rooms. That leaves the opportunity for heat to seep out through other routes, e.g. via the voids between ceilings and floors, or in internal walls, and into the external walls, and then of course into the outside world. This escape of heat is known as the bridging effect. With external walls, this does not occur.