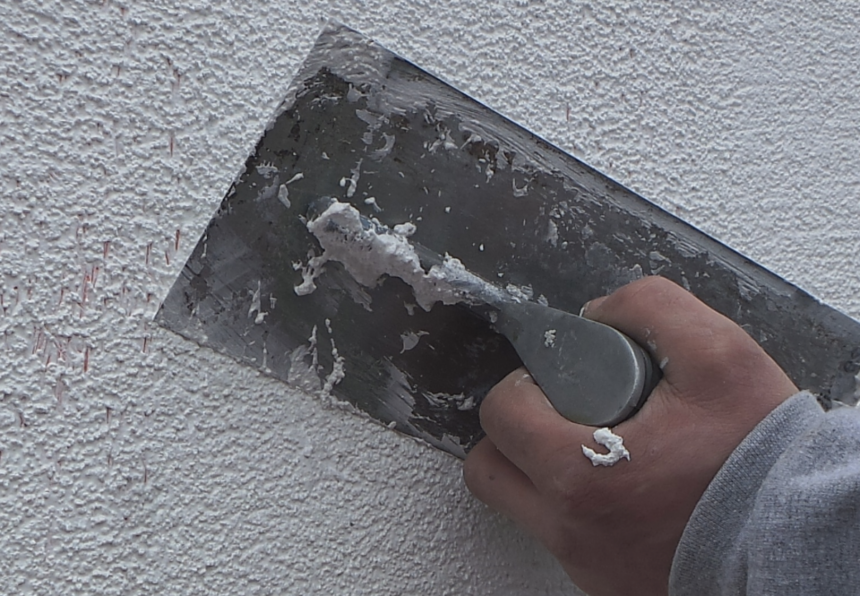 Why render your home
A huge num­ber of prop­er­ties in the UK are ren­dered – the ren­der used on the prop­er­ties can ful­fil many roles includ­ing the fol­low­ing:
Pro­tect­ing under­ly­ing brick­work
Cre­ate an attrac­tive façade on an ugly prop­erty
Tying sev­eral dif­fer­ent build­ing mate­ri­als types together
In the past, the mate­ri­als typ­i­cally used to ren­der a prop­erty con­sisted of sand and cement. The ben­e­fit of sand and cement was that it was incred­i­bly strong – the issue though was that despite being tough, the older sand and cement ren­ders lacked flex­i­bil­ity.
Old render often cracks!
Now back in the day, one of the major rea­sons for peo­ple get­ting their homes ren­dered was to pro­tect the under­ly­ing, aging brick work from the ele­ments. One of the biggest prob­lems with older prop­er­ties though is that they move – the expand in the sum­mer and shrink in the win­ter. The move­ment of the build­ing annoy­ingly resulted in crack­ing and so water could sud­denly find its way behind the ren­der. This sadly then causes the old sand and cement ren­der to flake / fall off leav­ing an unat­trac­tive façade and one that does noth­ing to ful­fil the roles it was intended to do!
Good news – modern day renders are flexible
There is good news though, mod­ern day ren­ders are com­pletely flex­i­ble so they don't suf­fer in the same way as the old sand and cement ren­ders when the build­ing moves through­out the year. The addi­tion of a flex­i­ble rein­force­ment layer is a crit­i­cal com­po­nent of all mod­ern day ren­ders so when speak­ing to ren­der installers make sure the sys­tem being used incor­po­rates this impor­tant fea­ture.