Loft Conversions and External Insulation
External insulation is often considered as part of wider refurbishment work in the home, and sometimes this can involve getting a loft conversion. In this bog we are going to look at the timing of the works and some of the things you should bear in mind when organising these works in combination.
Loft before EWI?

We recommend getting your loft converted first before carrying out the EWI work. This is for a couple of reasons. The first being that loft conversions are very extensive pieces of work that can, and probably will cause some sort of damage to the wall below, whether that be from something falling on it, splashed paint or from adjusting scaffold. Doing the EWI second makes sure this is not the case, and our teams wont need to go near the loft conversion, so no danger of any damage there!
Further, depending on how the conversion is done, there could be a need for the wall with the EWI on to be altered, and this will make it difficult for us to get the join of the EWI and the new roof just right. If the conversion is already done, we can bring the insulation up flush to meet it. It is important tht this process is planned however, as there are things the loft conversion company can do to make the connection better.
Scaffolding and EWI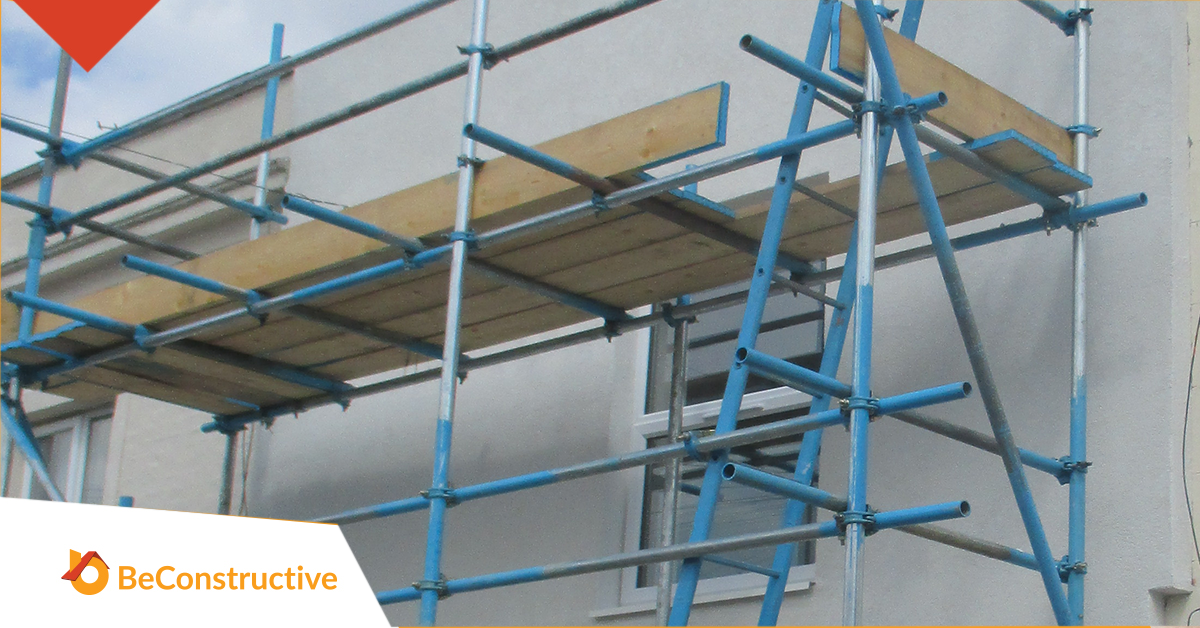 If you are getting a loft conversion, you will have some very extensive scaffold over the property. It obviously makes sense to try and only use one lot of scaffold instead of using a second set for t
he external insulation. In order to ensure there is not too much adjustment necessary we advise the following for your scaffold contractor:
All scaffold should be at least 300mm away from the wall to allow 100mm insulation and render to be applied and pipework to be adjusted. Obviously if you are getting more or less insulation this figure can be adjusted accordingly. Further, for lofts you are not likely to have a lift in the scaffolding at 1st floor level, but obviously for EWI this will be essential. The key thing to remember is that every part of the wall that is being insulated needs to be accessible on the scaffold without having to stretch or overreach. It is obvious but not followed very often by scaffolders!
Last but not least, please ensure that there are no supporting pieces of scaffold up against the wall. If there has to be a support, then this should be kept to an absolute minimum as it makes the work much more difficult.
It goes without saying that any scaffold used needs to meet the relevant regulations and the contractor must have the relevant insurance and qualifications as required. This is something you can check with us if you wish to go ahead.
Do the loft conversion company need to prepare for the EWI?
Often with loft conversions there are no points at which the main walls of the building actually meet the converted loft. There may be a soffit all the way around that is untouched. In this case there is not issue with bringing the insulation to and sealing to the soffit as usual.
Some properties have a loft conversion with a tiled gable wall. In this case, a verge trim will be tucked under the tiles to create a good seal. Please speak to us first however, as this area can be prepared to make the join between the insulation and the tiles much more sound.
Can you Externally Insulate a Loft Conversion?
If you have an old loft conversion that you want to externally insulate, or you would like us to insulate your new loft conversion, we can do this using the same system as we do for tiled walls. This involves a phenolic insulation with timber slats and new tiling applied.