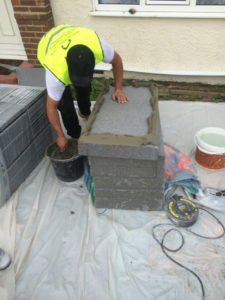 Does External Wall Insulation work in the Summer?
Most peo­ple assume that insu­la­tion is some­thing that keeps their home warmer in colder weather. While that is true, the actual impact of insu­la­tion is to slow the move­ment of heat between two spaces. What this means is that dur­ing the sum­mer months the insu­la­tion will also pre­vent your home from over­heat­ing.
How does insulation works?
To under­stand why insu­la­tion works well in both warm and cold weather, let's take a look at how insu­la­tion actu­ally works.
Bulk insu­la­tion, like wool or fibre­glass, and indeed our exter­nal wall insu­la­tion, works by trap­ping lit­tle bub­bles of air within the struc­ture of the mate­r­ial. The EPS exter­nal wall insu­la­tion for exam­ple is 98% air, so it is incredibly light­weight!
Air is an extremely good insu­la­tor when it is trapped and unable to move around, so by trap­ping lit­tle pock­ets of air within the insu­la­tion, you will actu­ally pro­duce a significant insu­lat­ing effect. And because this process is about pre­vent­ing heat trans­fer, it doesn't mat­ter if it is warmer out­side than inside or colder out­side. Either way, the warm air will not travel across that bar­rier, and the insu­la­tion will do its job.
The other type of insu­la­tion often used in homes is foil insu­la­tion. Rather than trap­ping air bub­bles in its bulk, foil uses its reflec­tive sur­face to deflect heat. A com­mon place this sort of insu­la­tion is found is in loft and roof spaces. Some­times, you will see a com­bi­na­tion of the two, with a shiny foil insu­la­tion sur­round­ing a bulky wool-like insu­la­tion.
A fantastic but premium solution for external insulation and mitigating the effects of heat in the Summer could be wood fibre insulation. You can install this with a basecoat and silicone top coat – once fully finished provides a decrement layer against the sun's heating effects in the summer months. 
How to maximise the effect of insulation in warm weather
If you have insu­lated all the critical areas of the home – espe­cially your loft and walls, you are going to have cre­ated a good bar­rier to pre­vent the heat from get­ting in on a bak­ing hot day.
There are a few other use­ful tips, how­ever, that will help ensure the heat stays out­side and the cool air is inside!
You could, of course, get an air con­di­tioner, but that would defeat the pur­pose of insu­la­tion as an energy saver, wouldn't it – so here are some other ways of stop­ping your home get­ting warm in sum­mer with­out fir­ing up the AC.
Solar gain is one of the main ways warmth will be ampli­fied in the home. When the sun is out, it will shine down on win­dows and amplify the heat in the area behind it. Avoid this by using blinds, drapes, and reflec­tive mate­ri­als in your win­dows to min­imise the impacts of solar gain.

Air cir­cu­la­tion is extremely impor­tant, and at night, when it is cooler, open as many win­dows as you can to allow the house to cool. If you have fan­tas­tic insu­la­tion, all that heat from the day isn't going to be able to get out at night, so let the heat out when the weather is at its coolest. Once the sun starts to come up in the morn­ing, close all your win­dows. If your home is well insu­lated and you have taken care of solar gain, it will actu­ally take quite a while for your home to heat up. You can then main­tain a cool tem­per­a­ture through the morn­ing and into the heat of the mid­dle of the day.

Cir­cu­lat­ing the air with fans is alright, as it will make you feel cooler, but remem­ber that any­thing elec­tri­cal that is run­ning in the house is going to make the ambi­ent tem­per­a­ture higher, and the insu­la­tion is just going to trap it in. Turn all non-essen­tials off and try putting some water in a dish under the fan, or even bet­ter some ice, as this will work as a cheap DIY air con­di­tioner to cool the air in the room.
Is insulation still important in Summer?
One of the best exam­ples of insu­la­tion at work is if you ven­ture up into your loft.
If you visit a well-insu­lated loft in win­ter, with lots of wool insu­la­tion between the joists, you will notice the area is quite cold – this is because the heat is being blocked from reach­ing the loft by all that thick insu­la­tion below you.
If you visit this same loft dur­ing the sum­mer months, you will notice that it is pretty hot up there. That is because the heat from the sun has warmed up the roof and loft space, but the insu­la­tion is slow­ing the move­ment of heat from the loft space down into the house.
You will also notice that a poorly insu­lated roof room (loft con­ver­sion) is really cold in win­ter but also really hot in sum­mer – another great exam­ple of how insu­la­tion helps to mod­er­ate the tem­per­a­ture in a home.
Solid wall insu­la­tion does the same thing! It means there is no need to put on the AC dur­ing the sum­mer months help­ing to save you money then too!
I hope this illus­trates the impor­tance of insu­la­tion not just as a win­ter energy saver, but also to help keep the home cool in the sum­mer months. The impor­tant thing to take away is that insu­la­tion is a bar­rier and that bar­rier will help stop heat from trans­fer­ring across it, what­ever the direc­tion!
Summer is the best time for External Wall Insulation!
If you plan to carry out an extensive piece of work like external wall insulation, it is best to carry it out during the Spring and Summer months. Not only because it provides the contractor with good weather conditions so that the works can be completed promptly, but it is also the best time to insulate the fabric of the property. During the dryer, warmer months, the property has plenty of time to dry and allow any interstitial moisture to dissipate, leaving the external substrate in good nick for the works to begin.
The weather conditions are not as crucial for loft insulation and internal works, like dry-lining the insulation. The fact that those works involve working in the internal environment means that the contractor may prefer working over the year's colder months.