Not all EWI repairs are so involved
All BBA-Certified Insulated render systems are tough, strong and weather resistant, typically carrying guarantees for 25 years and upwards.
But that is no guarantee that an unlikely act of nature or unfortunate incident won't occur that cause damage to the EWI.
Last month, Mrs. G contacted us after her insurance company agreed to pay costs when a large vehicle reversed into her externally insulated and rendered wall. The damage initially looked superficial, however upon closer inspection, the impact had a concertina effect beyond the 2ft long gash on the wall, and combined with the 4-week period of inclement weather that it took the insurers to agree to the repair, water ingress into the punctured system had begun to blow a large section of insulation.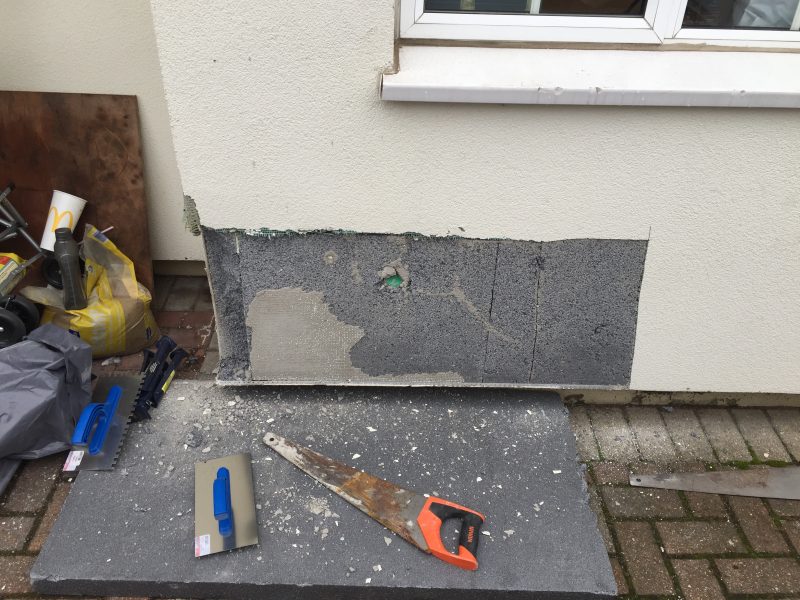 The system had been compromised.
In the end, we cut back a three meter section, cleaned and primed it before installing new interlocked insulation boards, polymer modified basecoat, high impact reinforcement mesh, and then primed and top coated the entire 20sqm elevation. Aside from ensuring a uniform aesthetic, it was also a warranty compliant repair, and Mrs G can now enjoy the benefits of the remaining 24 years of her guarantee!

Not all EWI repairs are so involved, but any penetration or damage caused could potentially become so, and it is critical that it be addressed quickly.
Patch repairs are unsightly, but on occasion where insurances are not involved, it's a cost effective solution. One recent job had just such an issue, and on a three year old install, was impossible to patch or blend. Luckily, it lined up nicely with a couple of other fixtures and fittings, so we completed the repair and installed a 'dummy' vent cover over it. Cheap, effective and in no way detrimental to the aesthetic, or the system integrity.
But if a repair is not done right, or carried out in a timely manner, the long term damage can be irreversible. Last week we received not one, but two Insurance enquiries, to quote for stripping off entire houses and reinstalling new systems. Sad to say, it's an ever increasing line of enquiry.